Out at the Movies schedules group outings to films of interest to the local LGBT community.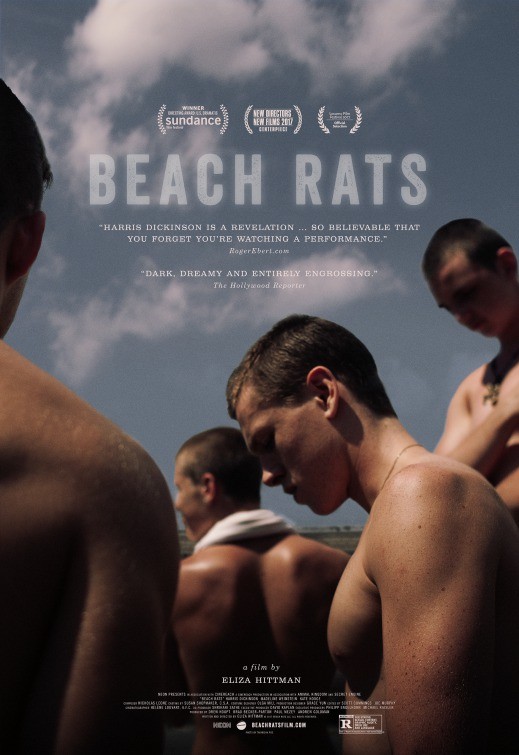 Beach Rats - September 12th, 2017 at Jacob Burns Film Center Pleasantville
Join The LOFT's Out at the Movies Group to see a special screening of Beach Rats at the Jacob Burns Film Center on Tuesday, September 12th. The film is at 7:35 PM.  The group will meet in the theatre lobby at 7:15 PM.
Following the film will be a Q&A with the film's producer Brad Becker-Parton along with JBFC Creative Culture Director Sean Weiner. 
MOVIE SYNOPSIS
"[Beach Rats] is more of a tone-poem, a shifting collage of mood and atmosphere…" (RogerEbert.com)
"Hittman's skill as an impressionistic filmmaker, giving us enough glimpses that we can fill in the whole, makes for an incredibly engaging viewing experience." (Vulture)
"Beach Rats, a boldly irreconcilable drama, shows a character locating ugliness and horror within himself." (New Yorker)
On the outskirts of Brooklyn, an aimless teenager named Frankie (played by newcomer Harris Dickinson in a stunning breakout performance) is having a miserable summer. With his father on his deathbed and his mother pressuring him to get a girlfriend, Frankie finds relief from his unrelentingly bleak home life by getting high, causing trouble with his delinquent friends, and exploring his burgeoning homosexuality by flirting with older men online. As his online chatting and webcaming intensifies, Frankie begins meeting men at a nearby cruising beach while simultaneously entering into a precarious relationship with a young woman (Madeline Weinstein in her feature debut). Eliza Hittman's (It Felt Like Love) award-winning Sundance hit is a powerful character study that is as visually stunning as it is evocative.
LINK TO PURCHASE TICKETS
https://burnsfilmcenter.org/booking/beach-rats/
________________________________________
Find Out at the Movies outings posted on the LOFT Calendar!
---
LOFT Social Groups are open groups which welcome everyone ages 18 and over. There is no need to preregister and no fee to attend. Donations are welcome. They are lead by facilitators who identify as peers with those in attendance.
There is no fee to attend groups but a $5 donation is suggested, more if you can, less if you can't.  Fees related to activities are to the responsibility of participants.