The LOFT Library is a lending library with over 6,000 LGBTQ+-related books, films and reference materials.
________________________________________
The LOFT Library is open weekdays when the center is open, and on some weekend hours. Checking out materials from The LOFT Library is a LOFT Membership Benefit.  To learn more about becoming a LOFT Member click here.
Books can be checked out for 1 month and films can be checked out for 1 week.
The LOFT Library uses the website LibraryThing.com to catalog its collection.
Click here to search The LOFT's collection of materials.
---
LOFT Library Wish List
The LOFT Library is seeking copies of the titles listed below to expand our Gender Studies and Bisexuality library categories.  We also welcome monetary donations to help secure these books or copies of the books themselves from your collection.
If you would like to suggest the names of other media you think The LOFT Library should have we welcome your suggestions.  E-mail them to [email protected]

He's My Daughter: A Mother's Journey to Acceptance by Lynda Langley

Far From the Tree by Andrew Solomon

The Transgender Guidebook:  Keys to a Successful Transition by Anne L. Boedecker, PhD

Wrestling with God and Men: Homosexuality and the Jewish Tradition by Steven Greenberg

Becoming a Visible Man by Jamison Green

Transmen & FTMs – Identities, Bodies, Genders & Sexualities by Jason Cromwell

The Testosterone Files – My Hormonal and Social Transformation from Female to Male by Max Wolf Valerio

Teeny Weenies – and Other Short Subjects by Matt Kailey
Bumbling into Body Hair – A Transsexual's Memoir by Everett Maroon
Redefining Realness:  My Path to Womanhood, Liberty, Love & So Much More by Janet Mock
Transgender History (Seals Studies) by Susan Stryker
The Transgender Studies Reader by Susan Stryker and Stephen Whittle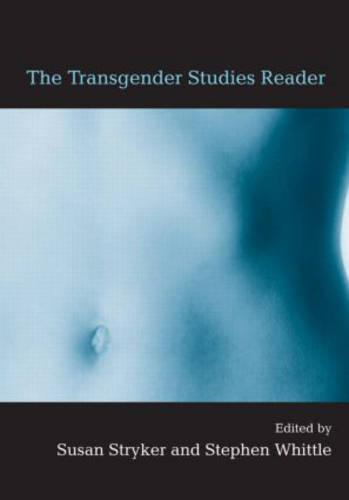 The Transgender Studies Reader 2 by Susan Stryker and Stephen Whittle
Transgender Emergence:  Therapeutic Guidelines for Working with Gender-Variant People and Their Families by Arlene Istar Lev, LCWS, CASAC
Transition and Beyond, Observations on Gender Identity by Reid Vanderburgh
GenderQueer:  Voices from Beyond the Sexual Binary by Joan Nesle, Clare Howell & Riki Wilchins
My New Gender Workbook:  A Step-by-Step Guide to Achieving World Peace by Kate Bornstein
Life Songs:  A Genderqueer Memoir by Audrey MC
Queer Theory, Gender Theory – An Instant Primer by Riki Williams
Nobody Passes:  Rejecting the Rules of Gender and Conformity by Matt Bernstein Sycamore
Trans Love:  Radical Sex, Love & Relationships Beyond the Gender Binary by Morty Diamond
Excluded:  Making Feminist and Queer Movements More Inclusive by Julia Serano
Queer Theories (Transitions) by Donald E. Hall
Transposes, a graphic novel by Dylan Edwards
Trans Bodies, Trans Selves: A Resource for the Transgender Community,
edited by Laura Erickson-Schroth
Letters for My Brothers: Transitional Wisdom in Retrospect
edited by Megan M. Rohrer and Zander Keig
Manning Up: Transsexual Men on Finding Brotherhood, Family, and Themselves
by Zander Keig & Mitch Kelloway
Just Add Hormones: An Insider's Guide to the Transsexual Experience
by Matt Kailey
FTM: Female-to-Male Transsexuals in Society, by Holly Devor
I Am Jazz, by Jessica Herthel
Hung Jury: Testimonies of Genital Surgery by Transsexual Men
by Trystan Theosophus Cotten
Notes for a Bisexual Revolution by Shiri Eisner
The Horizontal Poet by Jan  Steckel
Becoming  Visible: Counseling Bisexuals Across the  Lifespan
by Beth  Firestein
Queerer Theory: Notes and Reflections From a
Male-Identified  Bisexual  by Patrick Richards Fink
Bi America: Myths,
Truths, And Struggles Of An Invisible  Community by William  Burleson
Opening Up: A Guide to Creating and Sustaining Open Relationships
by Tristan Taormino
Bisexuality in the Ancient World by Eva
Cantarella
In One Person: A Novel by John Irving
Bi Men: Coming Out Every Which Way by Ron Jackson Suresha and Pete Chwany
Balancing on the Mechitza: Transgender in Jewish Community by Noach Dzmura
Queering the Text: Biblical, Medieval, and Modern Jewish Stories by
Andrew Ramer
Torah Queeries: Weekly Commentaries on the Hebrew Bible edited by Gregg

Drinkwater, Joshua Lesser, David Shneer
Like Bread on the Seder Plate: Jewish Lesbians and the Transformation of Tradition by Rebecca Alpert
Transgender and Jewish

 by Naomi Zeveloff
Mentsh: On Being Jewish and Queer edited by Angela Brown
 
A Rainbow Thread: An Anthology of Queer Jewish Texts from the First Century to 1969, edited by Noam Sienna with Foreword by Judith Plaskow