.
What's Better Than Watching Movies with Friends!? Come Join Us!
---
OUT at the Movies schedules group outings to films of interest to the local LGBTQ+ community.

---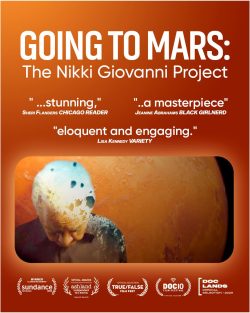 Wednesday, December 13th: 
Q&A with directors Joe Brewster and Michèle Stephenson moderated by REMIX Curator Tayler Montague
Going to Mars: The Nikki Giovanni Project travels through time and space to reveal the enduring influence of Nikki Giovanni, one of America's greatest living artists and social commentators. Giovanni reckons with the inevitable passing of time in intimate vérité and revealing archival footage. The film is a collision of memories, moments in American history, live readings, and visually innovative treatments of her poetry.
Followed by a reception in the Jane Peck Gallery
Tickets: $15 (members), $20 (nonmembers)
For tickets and to view the trailer click here. 
The LOFT's Out at the Movies Group will meet in the JBFC Center lobby at 6:45pm.  Film starts at 7pm. 
"Where

 

Going to Mars

 

undoubtedly succeeds is in spotlighting the poet's blazing personality, her unwavering confidence and her commitment to community without ever sacrificing herself."

 

Lovia Gyarkye,

 

The Hollywood Reporter
"Going to Mars

 

responds creatively to the call of its ingenious subject thanks to the directors' soulful grasp of her work, and Terra Long and Lawrence Jackman's skillful editing.

 

Lisa Kennedy,

 

Variety
SPECIAL EVENTS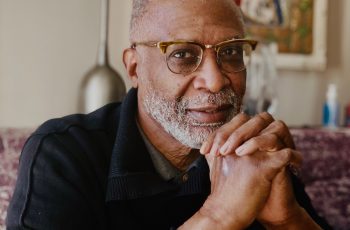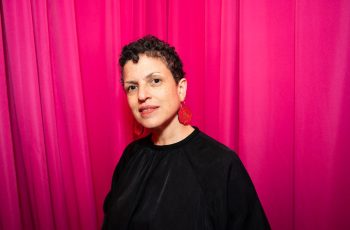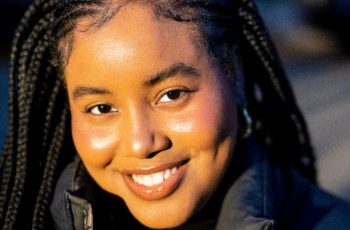 Q&A with directors Joe Brewster and Michèle Stephenson moderated by REMIX Curator Tayler Montague
Wednesday, Dec. 13 2023, 7:00
Joe Brewster

 

is a Harvard trained psychiatrist who uses his training as the foundation in approaching the social issues he tackles as an artist and filmmaker. Brewster wrote and directed his first film,

 

The Keeper

 

(1995), after a two year-long stint as a prison psychiatrist at the notorious Brooklyn House of Detention.

 

The Keeper

 

was screened at the Edinburg, Toronto, and Sundance Festivals; receiving numerous awards. For his first work Brewster was Spirit Award nominee and has never looked back. In the past three decades, Brewster has produced and directed narrative, documentary films, and immersive media. His feature documentary,

 

American Promise, was nominated for three Emmys and won the Jury Prize at Sundance. In 2022, Brewster produced the

 

O-DOGG: An Angeleno Take on Othello, featuring Tariq "Black Thought" Trotter, for the Oregon Shakespeare Festival. His groundbreaking room-scale production premiered at the Sundance Film Festival and received a jury prize at the Tribeca Festival in 2021 for Best Immersive Experience. Brewster has produced and directed documentary works on PBS, Netflix, Amazon, Aljazeera, Vice, the Sundance Channel, Comcast, Disney, and the World Channel. He is a recipient of fellowships and grants from the Sundance Institute, the Tribeca Film Institute, BAVC, MacArthur Foundation, and the John Simon Guggenheim Foundation. Rada Studio is currently in post-production on projects with MRC, CBC and ESPN.  Brewster is a member of The Academy of Motion Picture Arts and Sciences (AMPAS) and a four-time Emmy nominee. He has two children and resides in Brooklyn, New York, with his wife and cat, Tama.
Filmmaker, artist and author,

 

Michèle Stephenson, pulls from her Haitian and Panamanian roots and experience as a social justice lawyer to think radically about storytelling and disrupt the imaginary in non-fiction spaces.  She tells emotionally driven, personal stories of resistance and identity that center the lived experiences of communities of color in the Americas and the Black diaspora. Grounded in a Black Atlantic lens, Stephenson tells stories that intentionally reimagine and provoke thought about how we engage with and dismantle the internalized impact of systemic oppression. She draws on fiction, immersive and hybrid forms of storytelling to build her worlds and narratives. Her feature documentary,

 

American Promise, was nominated for three Emmys and won the Jury Prize at Sundance. Her work,

 

Stateless, was nominated for a Canadian Academy Award for Best Feature Documentary.  Most recently, Stephenson collaborated as co-director on the magical realist virtual reality trilogy series on racial terror,

 

The Changing Same, which was nominated for an Emmy in the Outstanding Interactive Media Innovative category and premiered at Sundance Film Festival. It also won the Grand Jury Prize for Best Immersive Narrative at the Tribeca Film Festival.  Along with her writing partners, Joe Brewster and Hilary Beard, Stephenson won an NAACP Image Award for Excellence in a Literary Work for their book,

 

Promises Kept. Currently, Stephenson is in post-production on a feature on the death of Freddie Gray, an ESPN story on Black girls' hand-games, and a program for the CBC on the Black Power movement in Canada. She is a member of the Academy of Motion Picture Arts and Science, a Guggenheim Artist Fellow, a Creative Capital Artist awardee.
Tayler Montague

 

is a filmmaker, writer, curator and native New Yorker. A graduate of SUNY Purchase with a degree in Communications, Montague seeks to tell stories that place Black people front and center, building upon the legacy of Black storytelling she grew up with. Her foray into the film industry began with her background in cultural criticism and programming. Her writing has appeared in publications such as

 

Film Comment, The Fader, and

 

Reverse Shot. She has cut her teeth as a curator, programming at various institutions such as BAM & Alamo Drafthouse. In the interim, she also worked in the curatorial departments at many of the city's beloved cultural centers such as MoMA, The Studio Museum in Harlem, and the Metropolitan Museum of Art.
Tickets: $15 (members), $20 (nonmembers)
.________________________________________
---
List of Previous OATM Film Meet-ups:
Heart Don't Be Afraid
The Jacob Burns Film Center with Artists in Residence – Ana Kvichidze and Avtandil Khorava.

YoFi Film Festival's Queer Screen Showcase 

Pride Month at Jacob Burns!
Funeral Parade of Roses
The Watermelon Woman
Mutt
PRIDE
LITTLE RICHARD: I AM EVERYTHING with a Q+A with director Lisa Cortés

Joyland

Close

Nelly & Nadine

Spoiler Alert

YOFI Film Fest-Queer Screening

TÁR

Mama Bears 

Concerned Citizen
Fanny: The Right to Rock
The Whistle
Moroni For President
Mr. SOUL!
Everything Everywhere All at Once
Great Freedom
But I'm A Cheerleader
Flee
Jinx & Dela Holiday Special
Poppy Field
Pieces of US
RESPECT
Ailey- 🦄🦄🦄 1/2 Unicorns
The Lavender Scare
Danseur
Judy
Downton Abbey
Rocketman
Booksmart
Nemesis
Family in Transition
Boy Erased
The Favourite
The Happy Prince
Lizzie
Buddies
The Cakemaker
The Miseducation of Cameron Post
The Catcher Was A Spy
A Fantastic Woman
Florence Foster Jenkins
Moonlight
Neon Bull
Southwest of Salem
States of Grace
The Handmaiden
To Wong Foo, Thanks for Everything, Julie Newmar
Carol
Tangerine
Prof Marston and the Wonder Women
Love, Simon
Call Me By Your Name
Female Trouble
Mr. Gay Syria
Beach Rats
Disobedience
Angels In America
Falsettos
The Death and Life of Marsha P. Johnson
Kiki
Real Boy
---
LOFT Social Groups are open groups which welcome everyone ages 18 and over. Groups are led by members of the LGBTQ+ and allied communities. There is no need to preregister and no fee to attend.
Donations are welcome. Suggested donation is $5; more if you can, less if you can't. Fees related to activities are the responsibility of participants. To donate, click here or text The LOFT to 44321.
---